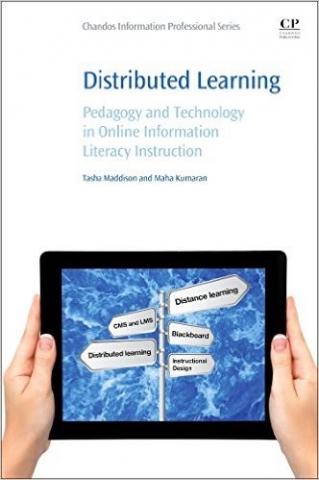 Fontbonne librarians Peggy Ridlen and Jane Theissen explore the evolution of Fontbonne University's online General Education Information Literacy course, LIB199 Information Literacy in Higher Education in a new book.  Their chapter, "Adapting to the Evolving Information Landscape: A Case Study" was recently released in a new monograph in the Chandos Information Professional Series entitled Distributed Learning: Pedagogy and Technology in Online Information Literacy Instruction edited by Tasha Maddison and Maha Kumaran. The chapter highlights the evolution of Fontbonne's online information literacy course from before their arrival in 2004 through its most recent revision. It addresses the integration of the ACRL Frameworks, social media, visual thinking strategies and revisions based on course assessment.
Peggy Ridlen, Reference and Instruction Librarian. Peggy earned a MA in Library & Information Science from the University of Missouri–Columbia and a BS in Education from Missouri State University in Springfield. Since arriving at Fontbonne in 2004, Peggy's responsibilities include oversight of the Information Literacy General Education course and teaching both information literacy and Fontbonne's first year seminar.
Jane Theissen, Reference and Learning Commons Librarian. Jane holds a Master's Degree in Library and Information Science (MLIS) from the University of Missouri - Columbia and a Bachelor's Degree (BA) from St. Louis University. Jane has been a reference librarian at Fontbonne University since 2004, manages the Learning Commons which houses 46 computers, scanners and printers, and collaborates on, and teaches, the information literacy course. A past Chair of Fontbonne University's Undergraduate Curriculum Committee, she is currently serving on Fontbonne's Committee for Rank and Tenure.