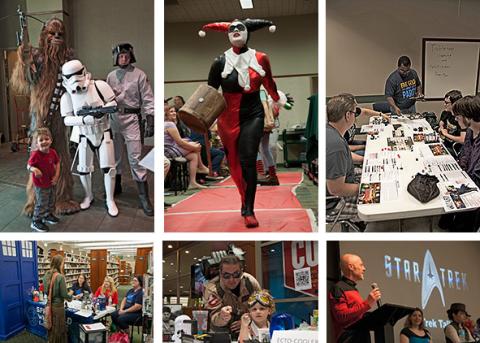 "If you plan it, they will Con! And boy, did they ever!" says Library Center Manager Jessie East. "Our door count at the Library Center on Saturday, August 27, was over 4,083 people! By comparison, on the fourth Saturday of August 2015, our door count was 1,597. 
"They were decked out, dressed up, and spent the day attending panel discussions, learning new games, sharing fun activities with their families, meeting artists and authors, and taking pictures. The Mudhouse had their biggest sales day ever, and the Gift Shop table made double what they hoped for. And we didn't have so much as a clogged toilet! Attendees told many staff how much they loved the event, and following the event, our LibraryCon Facebook page was flooded with wonderful comments and feedback from the attendees, authors, illustrators, and vendors. 
"This idea came from the brilliant mind of Sarah Bean-Thompson and has been brought to life by the passionate work of Sarah, Valerie Bogert, and Brian Grubbs, Jessie adds. "I've just been coordinating this wonderful team and helping them realize their vision for this event. We are grateful to have had the support of Regina and Jim as well as the Library Foundation in putting this idea in motion. 
"More thanks are in order," Jessie says. "We had A LOT of help from the TLC staff who worked at the branch Friday and Saturday; the Pages who helped schlep furniture and the stage; Trint Williams and Alyssa Tabor for Trek Talking, Ben Divin for taking photos all day long; and the Mudhouse Staff who survived their biggest business day ever. Our EMS day porter, Jacqueline, was diligent; our Whelan security guard, Jon, helped me direct traffic inside and outside the building for 7 hours, and the Gift Shop Staff had fun working at their sales table. 
"Staff from other branches and departments who served as panel speakers, greeters, staffed the Library table, selling books, and roved all over the branch doing whatever needed to be done; Jacob Davis, Allison Priddle, Lisa Sampley, Emily Alexander, Allison Saiko, Paige Harp, Emily Duckworth, Jen Childs. We had volunteers helping as panelists, Trek Talkers, and room monitors. And I want to give a huge shout out to Community Relations for the great graphic design work, the guidance they provided, the enormous amount of promotional material, and their endless patience." 
Jessie ends her message: "An official LibraryCon Committee is being formed and we're already making plans for a bigger and better Con next year."