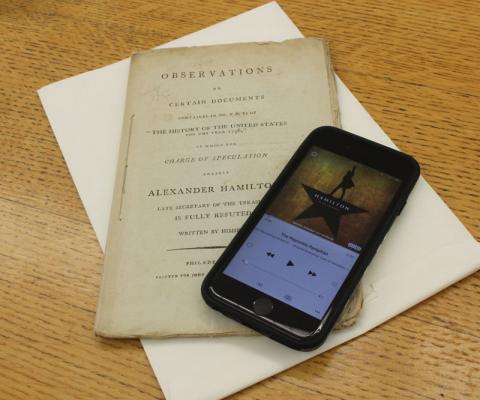 Ladies and gentlemen, are you ready for a cabinet meeting? The Special Collections department at Mizzou is currently featuring an exhibit on our favorite short-tempered protean creator of the Coast Guard: Alexander Hamilton. Meet us inside our reading room to explore the life – and afterlife – of the ten dollar founding father without a father. Don't throw away your shot to learn from the primary documents that tell his story, from everything he wrote like he was running out of time to his torrid affair – we have it all right there! Come join us in this room where it happens and see the documents in which Hamilton and his contemporaries wrestled with the enduring question: "what is a legacy?"
Our exhibit features many of the texts referenced in Hamilton: An American Musical, from "Observations on Certain Documents," better known as the Reynolds Pamphlet, to George Washington's Farewell Address, as well as several of the pamphlets in which the Founding Fathers smacked each other in the press – and didn't print retractions. Rebecca Benson, our graduate library assistant, curated the exhibit and will talk your ear off if you happen to stop by.
For more information on our Hamilton-related documents, check out our tumblr series.