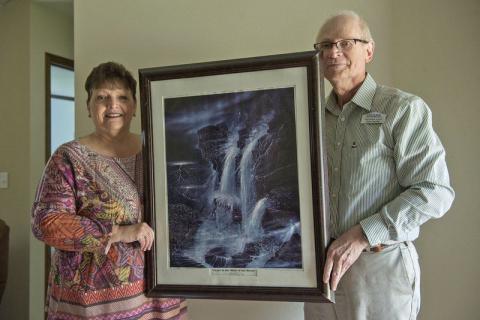 For some people, surviving an EF5 tornado, a subsequent fungal infection and cancer would be too much.
But John Hunter isn't one of those people. And for him, it all comes down to one thing: Faith.
Hunter, the library director at Ozark Christian College and a tornado survivor, has faced numerous battles since that stormy Sunday in May 2011, including multiple cancers and a bout with the infamous tornado fungus. Now 64, he has held fast to his Christian faith to get him through the rough spots. 
"We have a God who some people thought was absent, but he was definitely present that day," he said.
Surviving the 'giant fist'
When the tornado hit on May 22, Hunter's wife, Naomi, and granddaughter, Jessica, sought shelter in the interior bathroom of their home at 2402 Montana Place, located between Joplin High School and the former Dillons grocery store. Initially less concerned with the storm, Hunter stopped off in the kitchen for a warm, buttered biscuit before turning on the weather radio.
The first voice he heard was that of Keith Stammer, emergency management director for Joplin and Jasper County and one of his former classmates at Ozark Christian College. The voice issued a warning that a tornado was on the ground along Schifferdecker Avenue.
Hunter raced to the bathroom just as the house began shaking and twisting, ultimately coming apart as the tornado's winds battered it. Debris rained onto the trio as the roof was blown away.
"It was like this giant fist that was pounding on the house," he said. "It just seemed like it went on for so long, but it was just a few minutes to do that much damage."
When it was all over, three of their neighbors on Montana Place — the very heart of the tornado's path of destruction through the city — had perished. But the Hunter family had survived, with the bathroom walls the only intact pieces of their home.
Miraculously, a print of Webb City artist Jack E. Dawson's painting "Peace in the Midst of the Storm" was still hanging on one of those walls. There was some debris in the frame and wedged underneath the glass, but the picture — depicting a dove nestled against waves crashing over cliffs and a background of lightning — was otherwise untouched by the tornado's deadly power.
Hunter was astounded.
"It shows that God protects you, and — in the midst of what you think is the worst chaos and the worst disaster — you're going to be taken care of," he said. "It was a comfort to us knowing that he did take care of us."
The Hunters lost most of their possessions to the storm or the resulting rains and mold. Looters also ravaged the property, taking with them some of the couple's belongings. They moved temporarily into their daughter and son-in-law's house in Loma Linda.
Hunter, drawing strength from his Christian faith, had walked out of the rubble muttering over and over, "God will provide." Within a week after the tornado, the couple had bought and moved into a house in Webb City, where they still reside.
"We only had a chair, but we just started adding furniture one piece at a time," he said. "And the painting was one of the first things we had in the house."
Post-tornado struggles
But life wasn't done throwing obstacles at Hunter, who already was suffering from chronic glaucoma. In late 2013, he was diagnosed with thyroid cancer; doctors removed his thyroid and put him on artificial thyroid medication.
Within two more years, he was suffering from jaw pain that went unexplained by dentists, dental specialists and a neurologist. He finally got a partial answer from his ear, nose and throat physician: There was some fungus in his sinuses that was likely a result of the 2011 tornado.
In the weeks after the storm, nearly one dozen tornado survivors developed a rare fungal infection after coming into contact with aerosolized spores of Apophysomyces trapeziformis. Five other people with the fungus died within two weeks of exposure.
The development of this type of infection is not unprecedented after a natural disaster, but it is extremely rare. The fungus grows in soil, wood and water, and it's harmless to humans unless it penetrates the skin.
Hunter had the fungus removed, and while he was at that appointment, his wife had a request for the doctor: Could a biopsy be conducted on his tongue? The test was completed, and the results came back showing that there was cancer growing there from the inside out.
More than half of Hunter's tongue was removed and reconstructed with flesh from his thigh. Doctors also removed a lymph node that tested positive for cancer and told him that there were possibly cancerous cells in a nearby nerve, so he underwent 30 rounds of radiation plus simultaneous chemotherapy to try to stop the disease in its tracks.
Hunter completed all treatments on Sept. 24, 2015, and hasn't had any pain since.
'Papa John' perseveres
Despite his health battles, Hunter has remained optimistic and has stayed the course in living his life.
Most notably, he obtained his library degree from the University of Missouri in December 2014, a requirement for the job he now holds. At one point the oldest library student at MU, "Papa John" (as his teachers and classmates called him) had begun the degree program in 2010 and even started a condensed summer school course just days after the tornado.
Hunter and his wife also underwent training through Stephen Ministries, a St. Louis-based not-for-profit organization that seeks to produce lay caregivers in church communities. The tornado spurred the couple's desire to be equipped and ready to assist people in crisis, he said.
"You just try to listen for needs and try to meet the needs as best you can," he said. "It's a way of paying back for all the help that we received — and, indeed, God did provide in many ways."
His wife, a counselor, has reduced her work hours to spend more time as a grandmother. And Jessica has since graduated from Missouri Southern State University, bought a house in the tornado zone through the Joplin Homebuyer Assistance Program and began working with Will's Place, an Ozark Center children's services provider named for tornado victim Will Norton.
Hunter has been impressed by Joplin's recovery, which he attributes to the community's spirituality. He said he saw residents and volunteers of all religions — Christianity, Islam, Judaism and others — pitch in to rebuild the city and help their neighbors through trying times.
"I can't think of any other community in the country that could have done what Joplin did," he said. "That's not necessarily bragging on the people, but maybe on the people's faith."